Geislingen, September 2021
Whether at kindergarten, school, or on an afternoon trip to the playground or sports centre –at some point you'll be sure to hear the words: "Did we bring anything to eat?" But the days of fiddling with bags of crunchy snacks and food pouches are now over! Now, you can simply pack a delicious pasta lunch, a small risoni dish, or a crunchy cucumber and tomato salad in the kids' rucksacks –together with the new and sustainable "WMF My2Go Kids & Disney's Mickey Mouse" children's cutlery set. The knife, fork and spoon help tasty afternoon snacks find their way safely into kids' mouths–with all items made with Cromargan® and ergonomically designed for children's hands and mouths. Produced using 100% recycled material (PES), the felt case's design in cool red combined with a black Mickey Mouse motif is a hit in kiddies' backpacks –and a real bonus for sustainability, too. What's more, each piece of cutlery can be individually engraved –an extra special highlight that makes every "WMF My2Go Kids & Disney's Mickey Mouse" cutlery set truly unique.
Last year, WMF presented the "My2Go" cutlery set for adults –an absolute highlight for enjoying food with a good conscience on the move. "WMF My2Go Kids & Disney's Mickey Mouse" is the next logical step for this idea, allowing kids to enjoy food away from the dining table and kitchen in a sustainable, healthy and waste-free way. The set made of Cromargan® contains a knife, fork and spoon –each ergonomically designed for children's little hands –and comes with a case for safe storage. The cutlery has been designed especially with children's safety in mind: the knife has a light and smooth serrated edge, the spoon has rounded edges and the fork has short, blunt prongs. There are further practical features, too: once back at home, the cutlery can go in the dishwasher, and all items are acid-resistant and taste-neutral.
The kids' cutlery fits easily into a bag thanks to its practical case, which has a fixed slot for each item to prevent slipping or rattling. The case is made of 100% recycled material (PES) and is machine-washable for repeated use. And due to its red felt-look finish with Mickey Mouse motif, the case not only fits in perfectly with the cutlery set, but also blends in with the existing product family. The stainless-steel clip that closes the case can be individually engraved, too –just like all the other cutlery items.
About WMF
WMF, which is short for Württembergische Metallwarenfabrik, is a leading premium provider of household products, professional coffee machines and hotel equipment. WMF stands for innovation based on tradition and provides convincing engineering and design "Made in Germany".
Under the WMF, Silit and Kaiser brands, the company offers products for preparing, cooking, eating, drinking and baking for use at home. Business customers, in particular from the restaurant and hotel industry, have access to product ranges for coffee preparation, as well as the set table and buffet under the WMF, Schaerer, Curtis and Hepp brands.
WMF is represented with its products in over 120 countries and has more than 6000 employees. In Germany, Austria and Switzerland, but also in the rest of Europe and worldwide, e.g. in China, WMF operates a total of around 350 of its own shops. The company was founded in 1853 in Geislingen an der Steige and has been part of the French Groupe SEB since the end of 2016.
Press contact
haebmau.
janina schmidt
franz-joseph-str. 1 | 80801 muenchen
tel. +49 89 381 08-285
jzs@unroznh.qr
www.haebmau.de
With Waterkant, the WMF brand is showcasing a new (BPA-free) drinking bottle series at Ambiente. The bottles are perfect everyday companions, which – thanks to three individually interchangeable drinking attachments, various materials and different sizes – can be adapted not only to every taste but also every requirement. This means that the Waterkant bottles and attachments can be combined as required.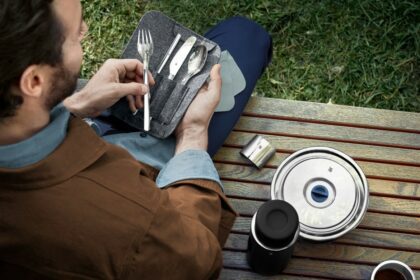 The WMF brand is adding a cutlery set to its to-go range at Ambiente 2020 – as an environmentally friendly alternative to conventional plastic cutlery. The set is available in a grey felt-look case made of 100% recycled material. It includes a spoon, knife, fork, a Cromargan® drinking straw and a cleaning cloth. My2Go has been developed especially for pleasure on the go. The WMF brand is offering smart equipment for the meal prepping food trend. Those who want to eat their homemade meals in style on the go will love the handy, light and hygienically packaged cutlery with WMF My2go.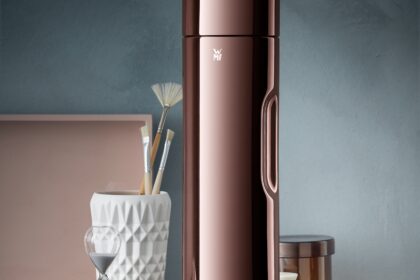 Whether it's a steaming mug of tea in the mountains or a hot coffee on your commute: neither are truly perfect unless the temperature is just right. This year WMF is launching its Motion collection with top-quality vacuum flasks in three sizes and colours. These flasks are ideal companions when you're out and set design statements, too. Style and enjoyment on the move.