Everything from a single source - the Expert of Table Culture
WMF Professional, a brand of proHeq GmbH based in Birkenfeld, is one of the leading suppliers of professional catering and hotel equipment. The main strengths of the Professional Hotel Equipment division are innovative, high-quality and stylish complete solutions for serving food and drinks. The extensive range includes cutlery and glassware, serving utensils, buffet equipment and table decorations of all kinds.
New decors for SYNERGY: "InNature" and "Geometric"
Crystal clear coffee pleasure with TRUE FLAVOUR
WMF Professional and HEPP present PVD Black
For over 160 years, WMF has been committed to the perfect triad of design, functionality and quality. It is the passion of our employees to bring people together, whether at home, on the road or in the upscale gastronomy sector, to give them precious and delicious moments together. And we do this with products whose excellent design, perfect functionality and top quality make people look forward to a culinary experience.
Since the end of 2016, proHeq GmbH has been part of the French Groupe SEB Group. In the course of this, all B2B brands of the group were recently bundled under the umbrella "SEB PROFESSIONAL". In addition to the Professional Hotel Equipment business unit with the WMF Professional and HEPP brands, there are also the coffee machine brands WMF, Schaerer and Wilbur Curtis.
New double-walled pot collection "COMPO" from WMF Professional
Birkenfeld – Whether breakfast, afternoon coffee or room service – with the double-walled pots in the "COMPO" collection, WMF Professional presents the perfect ac-companiment for delicious coffee and tea pleasure.
Birkenfeld – Polyethylene bags are now a thing of the past in logistics operations for WMF…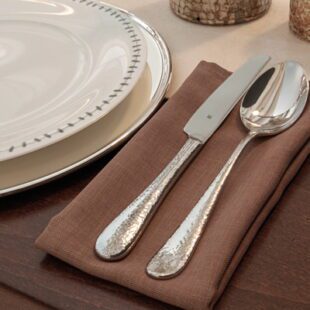 Birkenfeld – With the new SITELLO cutlery collection, WMF Professional is showcasing for the first time,…
Birkenfeld – For the product managers at WMF Professional, self-explanatory, emotional, functional, long-lasting and high-quality attributes…
Birkenfeld – It's a warm summer evening, the barbecue is sizzling and you cut through your…
Current and interesting news from WMF Professional Hotel Equipment
can be found on our social channels.