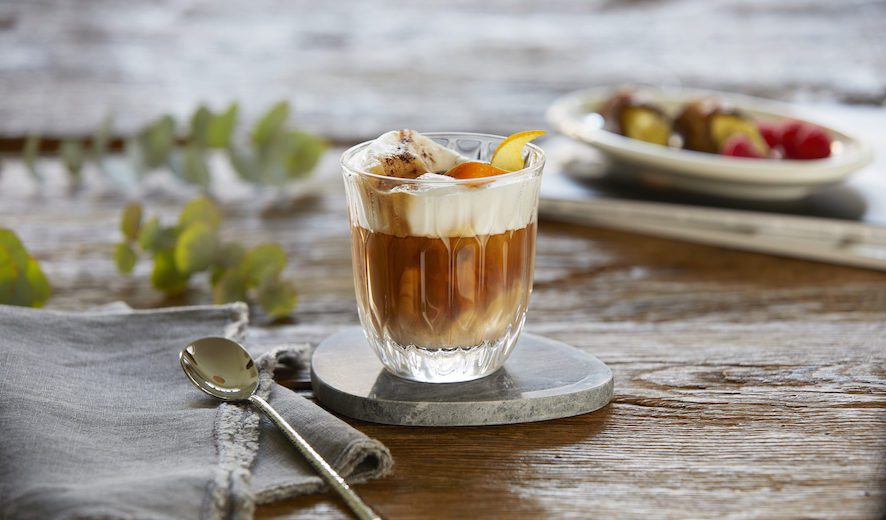 Whether espresso, flat white, latte macchiato or cold brew – all kinds of coffee specialties can be served in the utmost style in the new TRUE FLAVOUR crystal glasses from WMF Professional. Special highlight: Thanks to an innovative manufacturing process, it is now possible to fill crystal glass with boiling hot beverages. Developed together with WMF coffeeologists, the collection also stands out thanks to its optimal shape for full enjoyment of the aromas and crema. Baristas aren't the only ones who can let their creativity run wild with TRUE FLAVOUR. Tea and cold drinks are also impressively served in the four different glasses – which makes them even more flexible and sustainable for use in restaurants, bars, cafés and bakeries.
"For hot drinks, non-double-walled glasses were previously not very suitable", says Carsten Kulcke, General Manager of proHeq GmbH. Thanks to the four glasses in the new TRUE FLAVOUR collection, this challenge is now also a thing of the past: they are comfortable to hold, even when filled with a hot drink, due to their cut decoration with slight relief. WMF Professional is opening up new possibilities for restaurateurs and hoteliers to present all kinds of hot beverages safely and in extremely attractive ways.
High-quality class innovation "Made in Germany"
Specialists from the Professional Coffee Machines business unit at WMF were also involved in the development of TRUE FLAVOUR. The result: Thanks to the finely balanced shape of the base, coffee flows effortlessly into the glass – for perfect crema, a clear layering of latte macchiato and a full-bodied aroma. The dishwasher-safe glasses are perfectly designed for the fill quantities of different coffee specialities: from the espresso glass (90 ml) and cappuccino/flat white glass (230 ml) to the coffee/tea glass (295 ml) and latte macchiato glass (410 ml).
Four glasses – endless possibilities
The elegant and classic design with a cut decor created especially for WMF Professional follows the WMF design language and is a hit in hip and trendy restaurants as well as in fine-dining environments. The solid glasses are also ideal for everyday use in cafés and bakeries. "Serving refreshing summer drinks and cocktails perfectly in the TRUE FLAVOUR series is the ultimate way to sum up our motto – WMF Professional is the 'Expert of Table Culture'. This means that the baristas of the world no longer have any limits, even when they light a shot in the glasses for a moment", explains Carsten Kulcke. TRUE FLAVOUR also harmonises with other table-top presentations from WMF Professional, incorporating saucers or trays for example, leaving the scope for creativity wide open.
Image request
You can find and download images from our media portal http://press-n-relations.amid-pr.com by searching for the term "WMF-TrueFlavour".
Further information:
proHeq GmbH
WMF Professional
Carl-Benz-Strasse 10
75217 Birkenfeld
Tel. +49 7231 4885 0
Fax +49 7231 4885 83
jzs@cerff-a-eryngvbaf.qr
wmf-professional.de
Press and public relations:
WMF Press Office
c/o Press'n'Relations GmbH
Désirée Müller and Monika Nyendick
Magirusstrasse 33 – D-89077 Ulm
Tel. +49 731 96287-32
Fax +49 731 96287-97
jzs@cerff-a-eryngvbaf.qr
press-n-relations.de
About WMF
WMF, short for Württembergische Metallwarenfabrik, is a leading premium supplier of household products, professional coffee machines and hotel equipment. WMF stands for innovation from tradition and impresses customers with development and design "Made in Germany".
Under the WMF, Silit and Kaiser brands, the company offers products for food preparation, cooking, eating, drinking and baking for use at home. Business customers, particularly from the catering and hotel sectors, can choose from a range of products for coffee preparation, for the laid table and buffets under the WMF, Schaerer, Curtis and Hepp brands.
WMF is represented with its products in over 120 countries and has more than 6,000 employees. In Germany, Austria and Switzerland, but also in the rest of Europe and worldwide e.g. in China, WMF operates a total of around 350 of its own shops. The company was founded in Geislingen an der Steige in 1853 and has been part of the French Groupe SEB since the end of 2016.
WMF Professional Hotel Equipment
cerffr.jzs@fro-cebsrffvbany.pbz
No other color symbolizes dignity, elegance and festivity as impressively as the darkest of them all: black. Hoteliers and restaurateurs now have the opportunity to captivate their guests in a very special way thanks to three different cutlery models from WMF Professional and HEPP in this exciting color.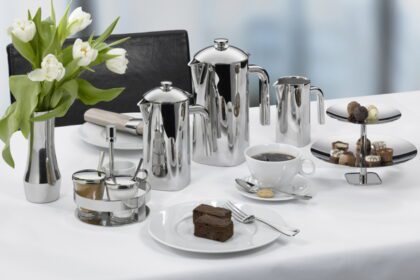 Birkenfeld - Whether breakfast, afternoon coffee or room service – with the double-walled pots in the "COMPO" collection, WMF Professional presents the perfect ac-companiment for delicious coffee and tea pleasure.