With this promise, we ensure the technically outstanding and reliable performance of every WMF coffee machine. This is the only way we can guarantee the results our customers want. This customer-oriented approach applies to all WMF machine categories – from fully automatic machines to automatic portafilter solutions and fully automatic filter machines.
WMF Partners all around the world know the secrets behind a good cup of coffee
AL – AHLIA Hotel Supplies Co. is one of the largest suppliers and contractors of equipment to the food industries in Jordan. To meet the increasing rise in local coffee consumption, the company decided in 2010 to include the products of WMF Professional Coffee Machines in its solution portfolio. The convincing brand mission of the market leader from Germany was…
In the field of professional coffee machines, all threads come together in Geislingen (Steige). From the initial design of machines, ancillary equipment and software solutions, through design, production and manufacturing, to service, all processes are seamlessly intertwined. The decisive factor here is that the customer's interests are always the focus.
Coffee to suit your own personal taste
Thanks to our comprehensive portfolio of solutions, we offer the ideal coffee machine for every coffee concept: the modular construction of the machines, functional options and additional equipment allow a configuration that is precisely tailored to the respective application. Through innovative operating concepts, coffee preparation is fully reliable – whether in an operating area or for self-service. After all, advanced technologies such as Fresh Filtered Coffee, Dynamic Coffee Assist and Dynamic Milk Assist ensure optimal coffee quality and maximum investment security for our customers.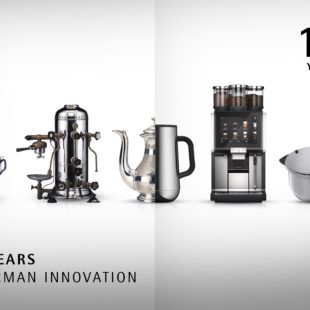 WMF celebrates 170 years! Since its foundation in Geislingen, Baden-Württemberg, WMF has stood for metal…
The new "WMF CoffeeConnection" digitisation team accompanies every WMF customer on their personal journey into…
The WMF espresso NEXT semi-automatic portafilter takes the process-reliable barista culture of WMF Professional Coffee…
With the "WMF Remote Service Desktop," premium manufacturer WMF Professional Coffee Machines is setting industry…
Current and interesting news from WMF Professional Coffee Machines
can be found on our social channels.