WMF Professional Coffee Machines and vly enter into a partnership
Coffee specialities with plant-based alternatives to milk have become an important sales driver in the coffee industry. The new cooperation between WMF Professional Coffee Machines and vly underscores this sustainable development. With their combined expertise in the areas of machine technology, coffee excellence, plant-based beverage trends and forward-thinking food development, the two partners aim to actively promote a vegan/vegetarian future in the German coffee industry. "As a provider of comprehensive solutions, we are committed not only to equipping customers of WMF Professional Coffee Machines with the necessary machine features, but, just as importantly, to share our knowledge and expertise relating to important beverage trends and their high-quality, profit-enhancing implementation by caterers and restaurant proprietors. A partnership with vly, a Berlin-based food start-up in the field of plant-based alternatives, allows us to advise and support customers even more comprehensively than before," says Axel Fähnle, Head of Global Brand Marketing, Content and Market Activation, GBU Professional Coffee Machines at WMF GmbH. Above and beyond this, the Geislingen-based premium manufacturer offers the entire range of plant-based milk alternatives. Here, WMF works together with well-known suppliers such as Alpro, the market leader for plant-based alternative products.
The reasons why people today prefer plant-based alternatives to cow's milk are as varied as the people themselves. For instance, the percentage of the population that is consciously choosing a diet without or with only a few animal products is steadily increasing. An international study by market research institute Arizton predicts a global market volume of more than 38 billion US dollars and an average annual growth of 14 percent in the period 2018 to 2024.
Logically, this change is also noticeable in the coffee industry. Guests can enjoy their coffee specialities with soya, oat or almond drinks almost everywhere. In addition, the new milk alternatives made from pea protein are increasingly popular. "Milk alternatives are much more than just substitute products. Many guests simply find that their favourite beverage tastes better when it is prepared with plant-based drinks. When it comes to variety, creativity and quality assurance, we support this new trend proactively and with sustainable solutions," says Axel Fähnle. And the new cooperation with vly proves that WMF's contribution is not limited to the development of machines such as the "WMF 2-Milk-Solution". The initial contact between the two partners came about recently, when the two companies were working on the same customer project, which has now been successfully realised. During this project, the Walldorfer SAP Group equipped the WMF fully automatic coffee machines in its offices with 4-litre bags-in-boxes from "vly Barista" – an alternative to milk, based on vegetable protein from peas which, thanks to high-quality processing, offers an excellent taste profile and foaming behaviour thanks to high-quality processing. Extensive beverage testing in the development laboratories in Geislingen also revealed its great potential for new coffee specialities of consistently premium quality and laid the foundation for a long-term partnership. "As one of the world's leading coffee machine manufacturer, we aim to actively shape markets and trends. With its fantastic product and its 'never stop learning' approach, vly is an important trendsetter. So it was only natural for us to continue this journey into the field of vegan speciality culture together. We are delighted to support an agile food start-up and look forward to providing comprehensive, revenue-boosting solutions together for new generations of connoisseurs", Fähnle added.
This partnership with WMF Professional Coffee Machines is an important motor for the internationalisation strategy of vly (VF Nutrition GmbH) in the out-of-home sector. "We believe that we can bring about change with our products. In recent years, many people have become more aware of nutritional issues. This has led to increasing interest in plant products, which we are seeing in the form of continually rising demand from end consumers. It also goes without saying that we aim to position ourselves as leading suppliers of milk alternatives for cafés and large companies – nationally and internationally. We see many points of contact through this new partnership with WMF, which has built up an excellent network in the industry, and we believe that the two companies can benefit from each other", states Nicolas Hartmann, co-founder of vly.
Request for images
You can find images on our media portal https://press-n-relations.amid-pr.com (search term "WMF-Vly-Food").
Further information:
WMF GmbH
Mirjam Sauter
Global Communication & Content Manager
GBU Professional Coffee Machines
WMF Platz 1 – D-73312 Geislingen
Tel.: +49 73 31 25 7314
cerffr.cpz@jzs.pbz – https://www.wmf.com
Press and public relations:
WMF Pressebüro
c/o Press'n'Relations GmbH
Monika Nyendick
Magirusstraße 33 – D-89077 Ulm
Tel.: +49 731 96287-30
jzs@cerff-a-eryngvbaf.qr
https://www.press-n-relations.de
About WMF
WMF, which is short for Württembergische Metallwarenfabrik, is a leading premium supplier of household products, professional coffee machines and hotel equipment. WMF stands for innovation based on tradition and convinces with development and design "Made in Germany". Under the brand names WMF, Silit and Kaiser, the company offers products for preparation, cooking, food, beverages and baking for home use, while business customers, in particular from the restaurant and hotel industry, can choose from product lines for the preparation of coffee, the perfectly laid table and buffet under the brand names WMF, Schaerer, Curtis and Hepp. WMF products are available in more than 120 countries, and the company has over 6000 employees. In Germany, Austria and Switzerland, but also in the rest of Europe and worldwide, for example in China, WMF operates a total of around 350 own stores. The company was founded in Geislingen an der Steige in 1853 and became part of the French SEK Group at the end of 2016.
Further information under www.wmf.com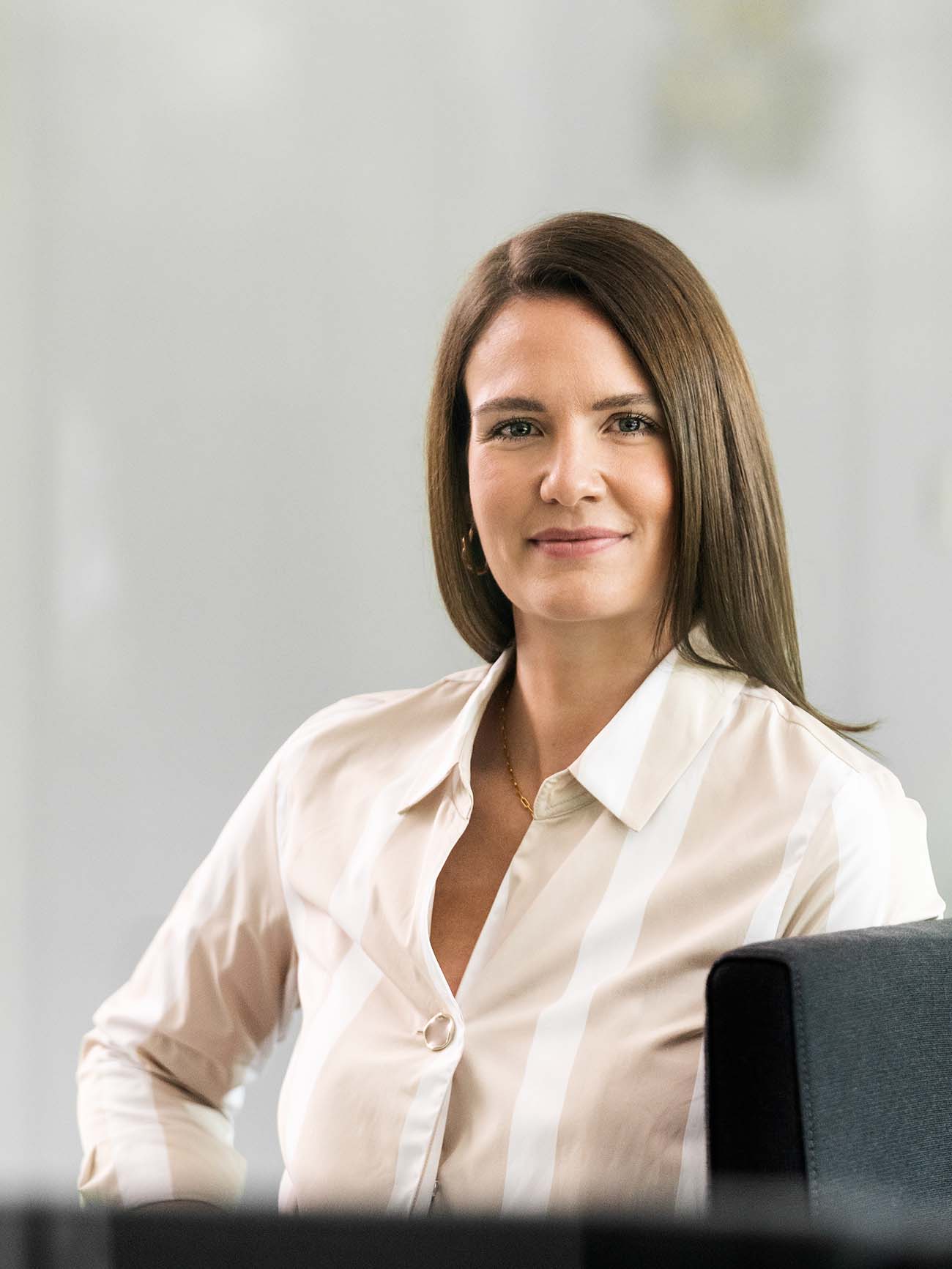 WMF Professional Coffee Machines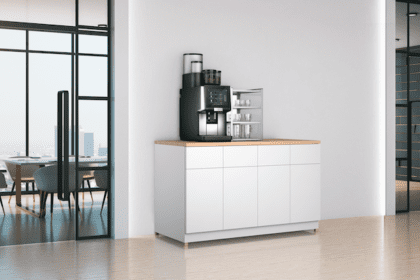 Freshly filtered coffee is an essential in the international coffee business. And the new WMF 1500 F bean-to-cup machine delights fans of the world's most popular trend beverage with the promise of ultimate enjoyment: wherever you need to prepare filtered coffee quickly and reliably in large quantities, this fully automatic machine guarantees consistently high quality.
This year, for the first time, visitors to the Host can experience the impressive, combined coffee competence of SEB Professional at one booth. Under the motto "Discover the world of coffee with us" and with a joint café as a focal point, the three brands WMF Professional Coffee Machines, Schaerer and Curtis are presenting their innovative solutions for coffee consumption outside the home together in Milan.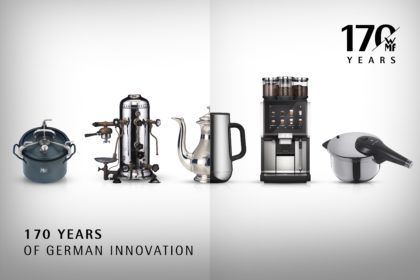 WMF celebrates 170 years! Since its foundation in Geislingen, Baden-Württemberg, WMF has stood for metal craftsmanship, outstanding quality, sophisticated design and decades of experience with professional tools.