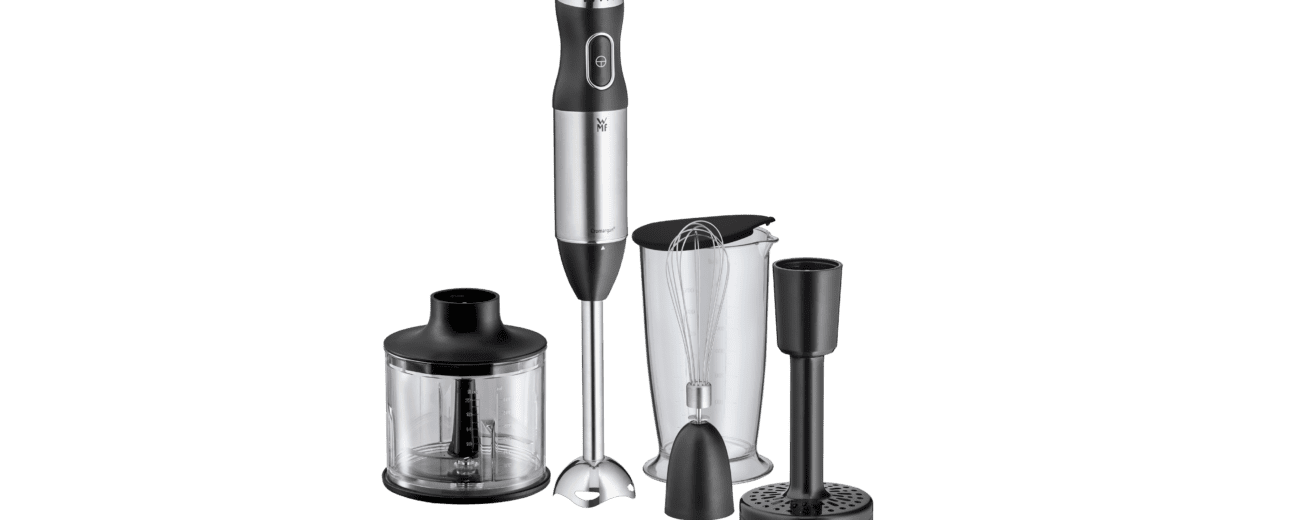 Geislingen, July 2021
Thanks to a powerful mixer unit and a versatile range of accessories, the new WMF Kult X Stick Blender Set makes it easy to prepare creative and diverse meals –each and every day. Featuring a stick blender, mini chopper, whisk and masher, the set contains just the right equipment for four different methods of preparation. There's a practical blender jug with lid too, which means the ideal kitchen gadget is always close to hand –and ready to use in an instant.
Say goodbye to supermarket pesto –and a big hello to fresh pesto made with pistachios, avocado or spinach! The WMF Kult X Stick Blender Set makes tiresome chopping and strenuous stirring a thing of the past. This new, everyday heroin the kitchen knows no limits to creativity. For with its range of attachments, the genuine all-rounder has the power to chop, purée or mix all sorts of ingredients in next to no time. Fancy a nutritious spread, delicious pesto or a light and fluffy cake? No problem! The Kult X Stick Blender Set is ready for anything, making everyday life a whole lot easier.
Where functionality meets clear design
At the heart of the new WMF Kult X Stick Blender Set is its stick-blender unit: made of Cromargan®, the blender's main body houses a powerful 600-watt motor, while its exterior stands out for its impressive design with clear lines and a modern form. Thanks to the rounded shape of the handle, the device always fits securely and ergonomically in the hand. The power button and six speed settings can be operated easily and intuitively.
4-in-1
In addition to its elegant appearance and ergonomic form, the set has a range of accessories that make it incredibly flexible. A total of four different attachments can be connected to the stick blender's body. These include a classic purée rod with a four-wing stainless-steel blade, a mini chopper with a capacity of 600ml, a masher that can be used to create all kinds of purées, and a whisk that makes easy work of whipping or stirring cream, eggs and light batter. There's an added bonus, too: a practical blender jug with a capacity of 700ml, a lid and anti-slip feet is also included in the set.
In keeping with the high safety standards of the WMF brand, the WMF Kult X Stick Blender Set complies with strict safety criteria and is GS-certified. The GS safety seal ("Geprüfte Sicherheit") confirms that the device meets the requirements of the German Product Safety Act.
Product details
WMF High Performance: Power output of 600watts and six speed levels.
Purée rod with four-wing stainless-steel blade.
Mini chopper with a capacity of 600ml.
Masher attachment & whisk attachment
Blender jug with a capacity of 700ml, lid and anti-slip feet.
Tested for safety as a GS-certified device.
The WMF KultX Stick Blender Set is available at retail outlets from November 2021, RRP* €99.99.
* WMF GmbH recommended retail price
About the WMF brand
The WMF brand has been setting standards with its innovations for more than 165years. It is also an important source of inspiration within the market. Its products, their exceptional design, perfect functionality and highest quality whet the appetite for wonderful culinary experiences: from preparing and cooking through to dining and drinking –four moments in which the WMF brand sits at the heart of the customer's life. WMF products make cooking a pleasure. From preparing ingredients using kitchen knives with precise cutting performance and cooking with innovative cookware through to dining with stylish cutlery, decanters and table accessories, products from the WMF brand transform all these moments into something special. WMF is a brand within the WMF Group headquartered in Geislingen an der Steige, which has belonged to the French Groupe SEB consortium since the end of 2016.
Press contact
haebmau.
janina schmidt
franz-joseph-str. 1 | 80801 muenchen
tel. +49 89 381 08-285
jzs@unroznh.qr
www.haebmau.de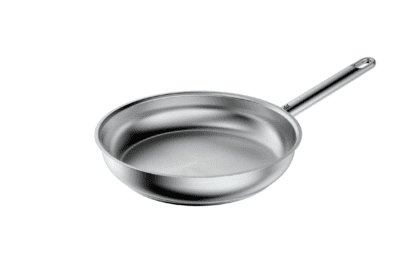 Durability, heat resistance and an even, flat base –three requirements that pans in the professional kitchen should meet. These demands have now inspired WMF to launch a new product this autumn. The new WMF Ultimate is a pan with a totally flat base –which enable seven more perfect and uniform frying results. Available as a frying or serving pan, the WMF Ultimate allows amateur chefs to enjoy professional equipment in their own kitchen.