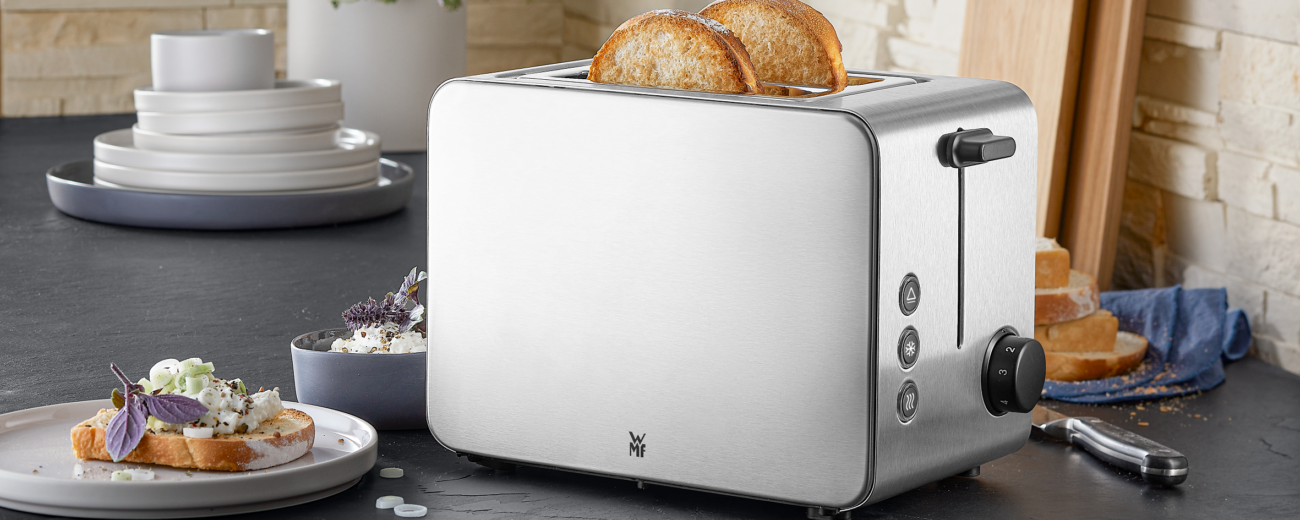 Geislingen, July 2021
With the launch of its new WMF Stelio Toaster Edition in autumn 2021, the WMF brand has created a stylish addition to any kitchen. After all, thanks to its Cromargan® housing with striking silk-matt finish, this elegant toaster will enhance the appearance of any cooking space. But there's more to this device than its impressive design: with a choice of seven toasting levels, it prepares the perfect toast with ease – each and every time.
Avocado toast is yesterday's news –today, hummus toast is all the rage! With countless recipes at their fingertips, toast-lovers can now enjoy this brand-new snack at any time of the day. Get the morning off to a perfect start with some tasty apple, honey and hummus toast. At lunchtime, you can spice things up a little more: pop a slice of bread into the new WMF Stelio Toaster, top the toast with two tablespoons of hummus, add sliced tomato, and garnish with green pesto. Finally, season with a sprinkling of pepper and enjoy your quick afternoon snack. Then in the evening, top some hummus with fried mushrooms, a little garlic and some rosemary to transform an ordinary piece of white bread into a delicious warm supper in no time.
The WMF Stelio Toaster Edition is a real visual highlight in any kitchen. Its high-quality, heat-insulated Cromargan® housing boasts an impressive silk-matt finish. And in addition to its elegant design, the new two-slice toaster has outstanding features, too. With a choice of seven toasting levels and an integrated bread-centring feature for even browning, the device delivers fantastic results that cater to every taste. The toaster is easy to use thanks to handy illuminated controls for cancel, warm-up and defrosting functions. And those looking for even more convenience will love the integrated stainless-steel bread-roll attachment –great for crisping up bread rolls, croissants and much more. Last but not least, the new toaster is easy to clean and store thanks to its removable crumb tray and integrated cord wrap.
The WMF Stelio Toaster Edition is of course subject to the high safety standards of the WMF brand. The Safety Touch casing doesn't get hot during toasting and is safe to touch, which means the appliance is GS-certified. The GS safety seal ("Geprüfte Sicherheit") confirms that the device meets the requirements of the German Product Safety Act.
Product details:
Elegant casing made of Cromargan® with silk-matt finish; heat-insulated.
Extensive features with a choice of seven toasting levels and built-in bread centring feature for perfect results whatever your preferences.
Illuminated controls with cancel, warm-up and defrost functions.
Two-slice toaster for slices of up to 9cm by 9cm.
Integrated bread-roll attachment made of stainless steel for crisping up rolls and croissants.
Removable crumb tray for effortless cleaning.
Integrated cord wrap for easy storage of the 1m cable.
Tested for safety as a GS-certified device.
The WMF Stelio Toaster Edition is available at retail outlets from October 2021, RRP* €59.99.
*WMF GmbH recommended retail price
About the WMF brand
The WMF brand has been setting standards with its innovations for more than 165years. It is also an important source of inspiration within the market. Its products, their exceptional design, perfect functionality and highest quality whet the appetite for wonderful culinary experiences: from preparing and cooking through to dining and drinking –four moments in which the WMF brand sits at the heart of the customer's life. WMF products make cooking a pleasure. From preparing ingredients using kitchen knives with precise cutting performance and cooking with innovative cookware through to dining with stylish cutlery, decanters and table accessories, products from the WMF brand transform all these moments into something special. WMF is a brand within the WMF Group headquartered in Geislingen an der Steige, which has belonged to the French Groupe SEB consortium since the end of 2016.
Press contact
haebmau.
janina schmidt
franz-joseph-str. 1 | 80801 muenchen
tel. +49 89 381 08-285
jzs@unroznh.qr
www.haebmau.de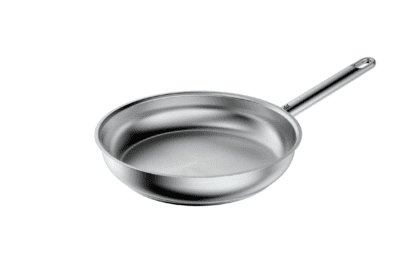 Durability, heat resistance and an even, flat base –three requirements that pans in the professional kitchen should meet. These demands have now inspired WMF to launch a new product this autumn. The new WMF Ultimate is a pan with a totally flat base –which enable seven more perfect and uniform frying results. Available as a frying or serving pan, the WMF Ultimate allows amateur chefs to enjoy professional equipment in their own kitchen.